C&D Batteries and UPS


---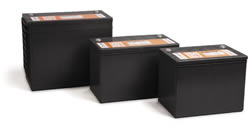 C&D TECHNOLOGIES makers of C&D Batteries is also highly focused on power system integration. By offering products that can monitor and rectify AC-to-DC current to power the switches and other equipment, as well as provide backup battery power, we can give customers of any size — particularly in the telecommunications industry — a total power package. C&D Battery has a solution for your energy storage needs.
Available Models:
c&d ups12-300mr
c&d ups12-400mr
c&d ups12-490mr

C&D Technologies, Inc. is a technology company that produces and markets systems for the power conversion and storage of elements such as electrical power, including most industrial batteries and electronics. When it comes to reliability C&D batteries lead the way.
This extremely specialized focus has helped establish this company as a leading and valued supplier of products in the three major categories - reserve power systems, electronic power supplies and material handling systems.
C&D's success in these key markets has been supported by dedication to customer service, which is another reason American Technical Support is proud to carry their products.